Resources
To Report a Stranded Marine Mammal (dead or alive) call 1-877-WHALEHELP
(1-877-942-5343)
Help Stranded or Injured Marine Mammals

Find out how you can report sick, injured, distressed, or dead marine mammals.

Marine Life Viewing Guidelines

Regulations and guidelines have been developed with specific recommendations and distances for viewing marine animals.
Report Marine Wildlife in Distress
Do's and Don'ts For Encountering Stranded Marine Mammals
Do's

• Immediately report all dead marine mammals, even if they are decomposed. Call the Southeast U.S. Region Stranding Network 24-hour hotline: 1-877-942-5343 to be connected to NOAA"S marine mammal health and stranding response network. The stranding network will send out trained responders who will get to the scene quickly with appropriate equipment.

• Always keep human safety above animal safety. If conditions are dangerous, do not attempt to approach the animal.

• Stay on scene with the animal until rescuers arrive but use caution. Marine mammals can be dangerous and/or carry disease. Keep a safe distance from the head and tail. Also, minimize contact with the animal (use gloves if necessary) and avoid inhaling the animal's expired air. If the animal is alive do keep its skin moist and cool by splashing water over its body. Use wet towels to help keep the skin moist and prevent sunburn.

• Keep crowds away and noise levels down to avoid causing further stress to the animal.

• Keep dogs/pets away from the live or dead marine mammal.

• Observe wild dolphins from a recommended distance of 50 yards.


Don'ts

• Don't push any stranded animal back out to sea. Stranded marine mammals may be sick or injured. Returning animals to sea delays examination and treatment and often results in the animal re-stranding in worse condition. If the animal returns to the water on its own, don't attempt to interact with it (swim with, ride, etc.).

• If the animal is alive don't cover or obstruct the blowhole. Try to keep sand and water away from the blowhole, and shade

• Don't feed, or attempt to feed, or otherwise harass wild marine mammals. It is illegal and harmful and is a violation of the Marine Mammal Protection Act.

• Don't collect any parts (tissues, teeth, bones, or gear, etc.) from dead animals. It is illegal and a violation of the Marine Mammal Protection Act.

Report Sick or Injured Marine Wildlife
Louisiana

Here's how you can save injured marine mammals with the help of Coastal Wildlife Network (CWN).

Florida

Discover field stations in Florida that respond to injured or straded marine mammal reports.

South Carolina

Get involved with Lowcountry Marine Mammal Network (LMMN) and help save marine mammals.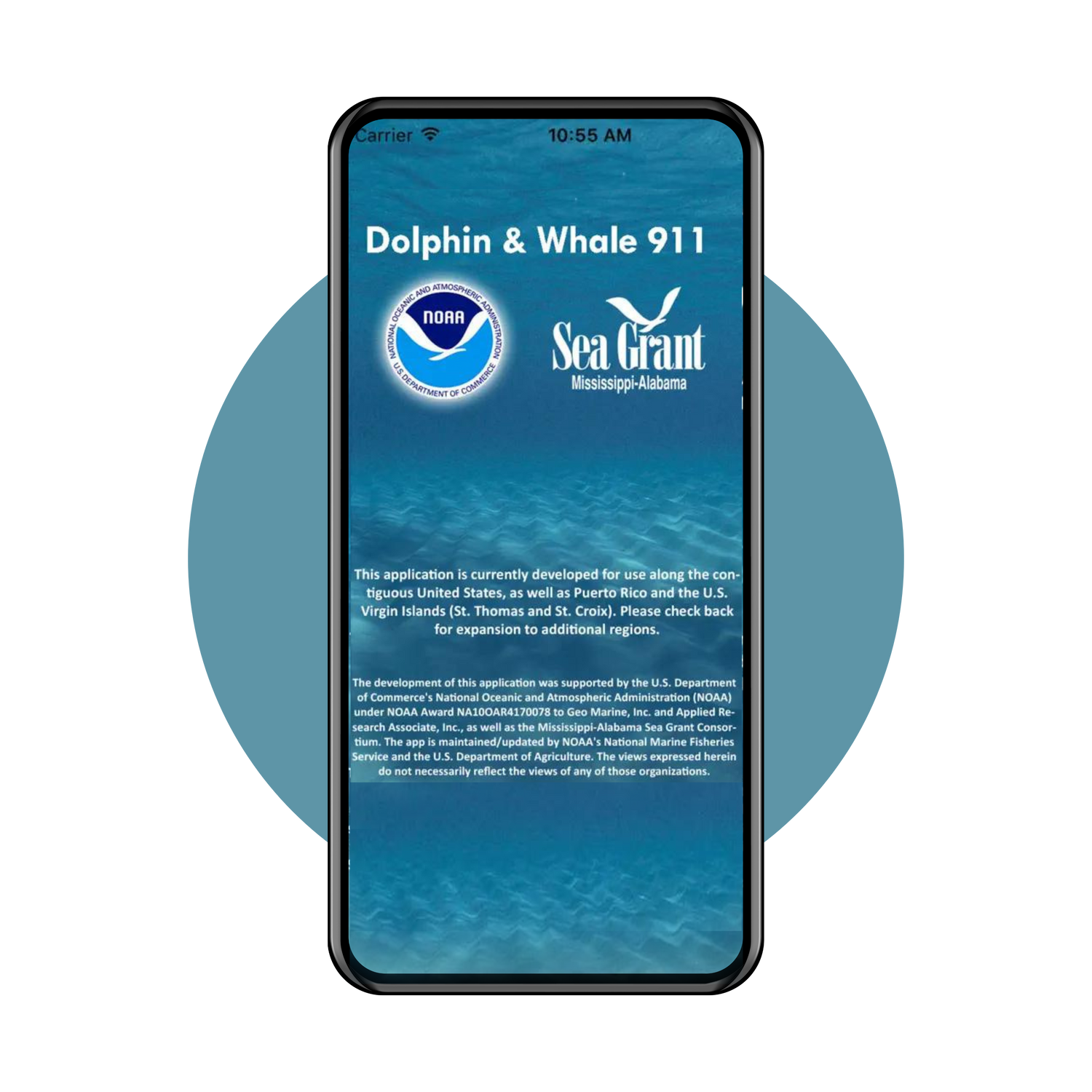 Dolphin & Whale 911 App
The Dolphin & Whale 911 app enables you to immediately report live or dead stranded, injured, or entangled whales, dolphins, porpoises, sea lions, and seals along the United States, including Alaska and Hawaii, as well as Puerto Rico, U.S. Virgin Islands (St. Thomas and St. Croix), and Pacific Island territories.
Download Now