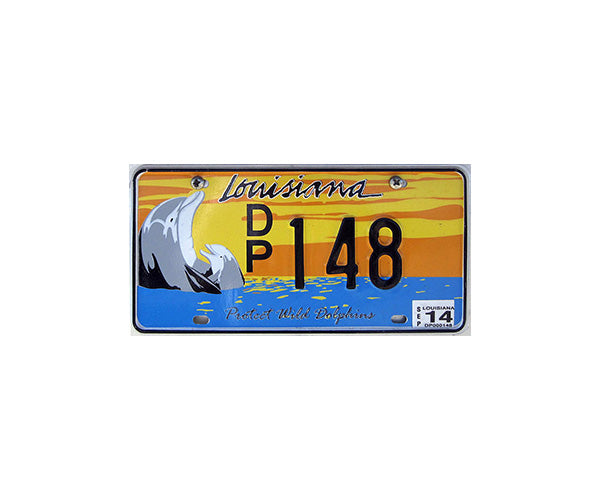 PROTECT LOUISIANA DOLPHINS
THE LOUISIANA PROTECT WILD DOLPHINS SPECIAL LICENSE PLATE IS AVAILABLE AT YOUR LOCAL OFFICE OF MOTOR VEHICLES and you can ORDER ONLINE by clicking here.
On June 16, 2021, Louisiana Governor John Bel Edwards signed the bill effectively creating Act 244 (HB363) relative to the Protect Wild Dolphins special prestige license plates. The monies received from the royalty fees shall be used solely for the support of scientific research, conservation, and educational programs that serve to restore and protect the ocean environment and freshwater systems and to protect wild dolphins. 
​STEP UP TO THE PLATE - AND HELP PROTECT WILD DOLPHINS IN SOUTH CAROLINA
Protect Wild Dolphins Alliance, Inc. (PWDA), brings its decades of expertise, knowledge and passion to support  scientific research, conservation, and educational programs that serve to  protect wild dolphins in Louisiana.​PWDA looks forward to continuing to work with organizations such as the Audubon's Coastal Wildlife Network, who received $25,000.00 from license plate proceeds, which allowed them to be able to purchase a boat that can navigate Louisiana's shallow coastal waters to transport staff, stranded dolphins, and response equipment, as well as purchasing rehabilitation diagnostic supplies and tools. Louisiana is prone to storm surge from tropical weather—trapping dolphins inland in marshes, ponds, and drainage canals.  The boat has allowed CWN to more easily search these areas for stranded animals and allow for more safe and efficient rescue operations. Previously, CWN had to borrow a boat from various partner organizations—increasing response time and decreasing effectiveness.